As every year, the time has come to collect egg-laying fragments of two species of amphibians in different source sites to reintroduce them in the active quarries members of the LIFE in Quarries project.
 Pascal Hauteclair, in charge of the translocation of the Natterjack toads at Natagora and Aurore, student at Gembloux Agro-Bio Tech, visiting one of the quarries members of the LIFE in Quarries project to collect clutch fragments.
Another innovative aspect of the LIFE in Quarries project is the translocation campaigns of two amphibian species.
The principle is simple: collect egg-laying fragments of Natterjack toads and great crested newts from source sites (the percentage of which is calculated on a case-by-case basis for each source site according to a meticulously elaborated protocol) in order to release them, then, in areas of some of the quarries members of the LIFE in Quarries project that they have no chance to reach without a little help.
These areas are ideal for the development of new populations of these two threatened amphibian species, which are inaccessible to their little legs. However, the LiQ project teams love to play tour operator!
Rare natterjack toad eggs
Classified on the red list of amphibians in Wallonia, the Natterjack Toad (Bufo calamita), one of the target species of the LIFE in Quarries project, can be recognized by the thin yellow line that crosses its back along its entire length and by its yellow/green pupil.
Pioneer species "par excellence", the Natterjack toad needs new, open and virgin environments to develop. Environments which are cruelly lacking in our modern urbanized landscapes…
It is in this lunar landscape that our teams move from pond to pond to collect egg-laying fragments.
This is why, among the places where we still find this small batrachian, there are notably the quarries, gravel pits and sandpits whose extractive activity constantly disrupts the landscape offering choice habitats to this pustuleux pioneer.
However, on this day and despite a beautiful sunny weather, a single egg-laying is spotted in one of the ponds, consequence of this grey and particularly cool spring…
The natterjack toad clutches are organized in two long strings of two fine strings of small white and black eggs surrounded by a translucent jelly.
Nothing dramatic however, since unlike other species that lay eggs at the same time whether it is snowing or windy, these lady Natterjack prefer to wait for good weather to give birth. It will be necessary, therefore, simply to return later.
A lot of work but well worth it: the translocation campaigns of the Natterjack Toad in the previous years have been successful every time!
An abundance of Crested Newts
Another day, another species and, above all, another result: the great crested newt ladies had a great time!
This is what Julien Taymans of Natagora noticed immediately, half of his body immersed in a pond when we found ourselves early in the morning in the meadow of a riding school somewhere in Hainaut (Belgium).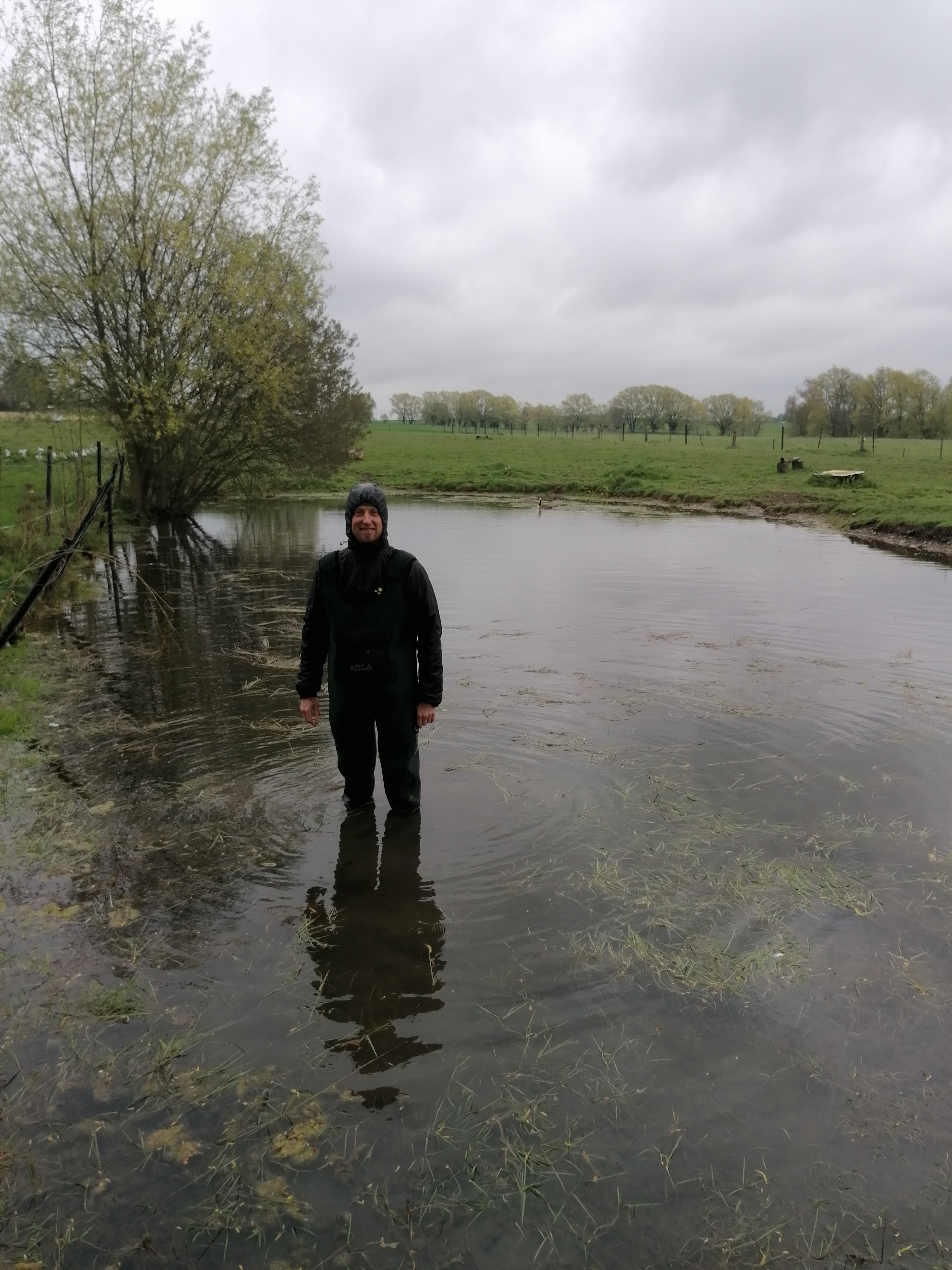 A bucolic place for this "newt factory" but that is not surprising since the great crested newt, the largest and rarest of the four species of newts living in Wallonia, breeds almost exclusively in stagnant and vegetated waters located in green areas composed of copses and meadows. Indeed, as an adult, the great crested newt lives… on dry land.
So many places with very particular criteria which are reduced to a minimum in Wallonia because most of the time, these ponds are surrounded by cultivated land, which is not at all suitable for our punk newt.
The presence of aquatic vegetation in the pond is essential for the female to lay her eggs, generally one by one, well sheltered among plants and algae.
And for this species, there is no question of going to collect egg-laying fragments armed with scissors. No, the ultimate weapon to collect crested newt eggs is: the garbage bag!
Finally; strips of garbage bag, hung on stakes and planted among the vegetation along the banks. Once these artificial nurseries are in place, all you have to do is wait a few weeks, come and harvest them and then head for their new home.
On the strips, hundreds of greenish eggs of about 2 mm. Some of them are already in the embryonic stage. Jacky Wuelche
Once brought to the quarry area where two deep, vegetated and sun-exposed permanent pools await them, the eggs must first be counted! And a stake (which represents about twenty strips) often contains several hundred eggs! The whole folded in two and the hands in cold water of course.

We had already devoted an article to it last year. To see it click here.  © Jacky Wuelche
And their new home seems very cosy : full of vegetation and a pond well in water ! After the census, the stakes are "replanted" in the pond by Julien. Long life to them!
We will come back this summer to evaluate the success of the operation!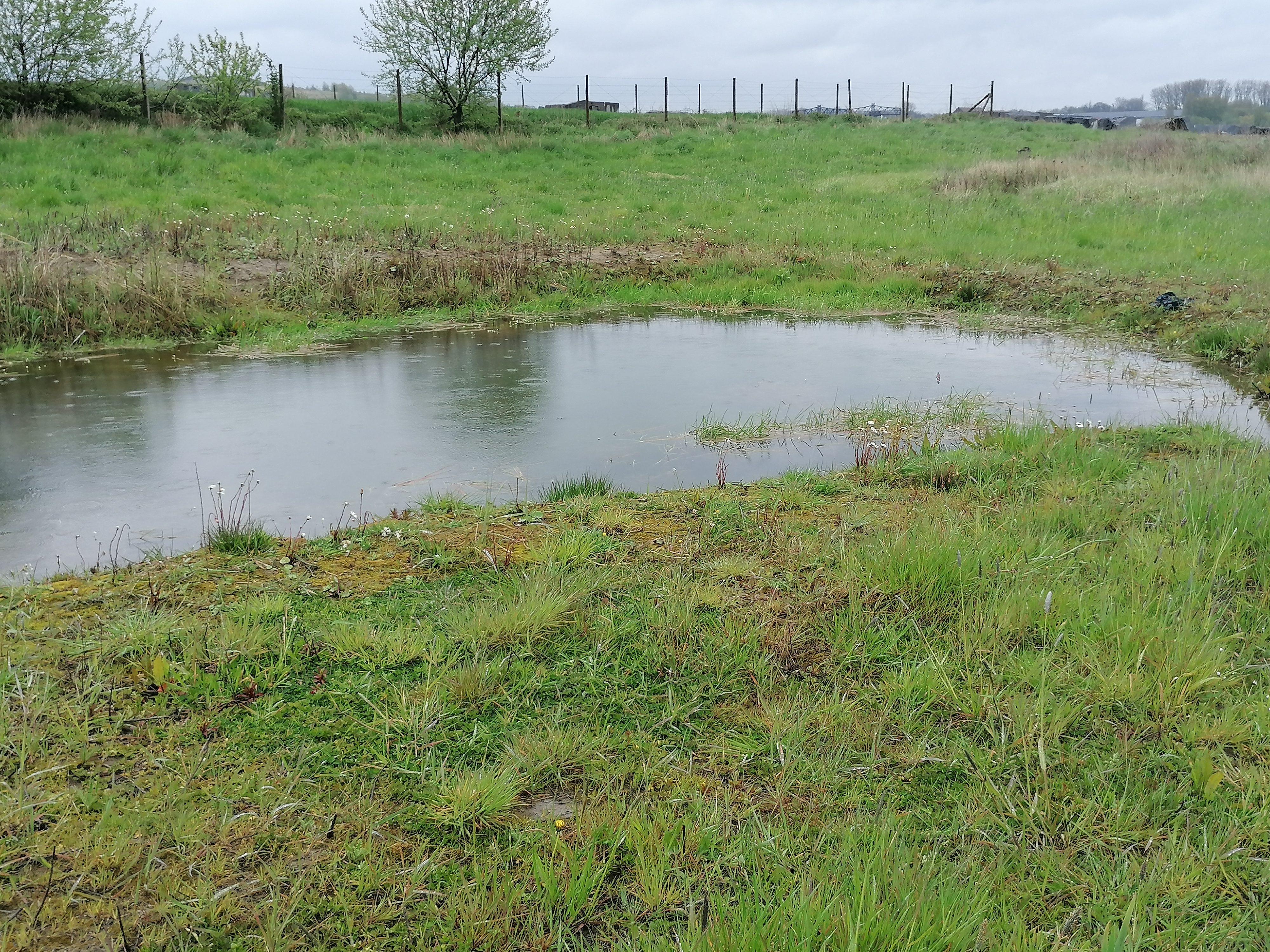 Why carry eggs?
Thanks to the annual translocation campaigns, the contribution of Natterjack toad and great crested newt egg fragments in the quarries contributes to the reinforcement of the populations of these two threatened species, by participating in the establishment of an ecological network favorable to their redeployment on the Walloon territory.
Another essential role of these extractive sites whose products are at the heart of the daily life of each of us.